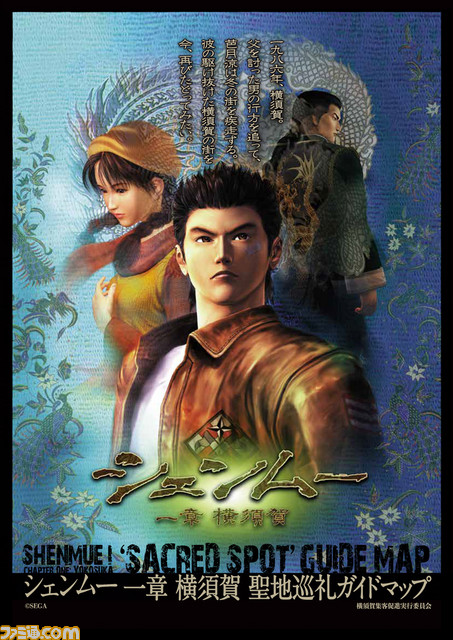 The Shenmue Chapter One Yokosuka Sacred Spot Guide Map
So Shenmue III didn't make it's scheduled launch window of December 2017, but all's not lost...because according to the website of the respected Japanese video
games magazine Famitsu
, a Shenmue: Chapter One Yokosuka 'Sacred Spot Guide Map' will be coming to Yokosuka soon....Wait, what?!?
We have little more to go on other than this one Famitsu news story, so rather than babbling anymore about it, I may as well just give you a brief translation of the key information from the page:
In short:
The Yokosuka attraction promotion executive committee has been working with Sega, to produce a Shenmue Chapter One Yokosuka Sacred Spot Guide Map.
The guide map will feature locations such as shrines, parks, shops and more, that are representative of the time of the game's setting (1986).
Following this is a short schedule regarding how and when this map will be made available to the public:
1. Date of release
Sunday December 3rd 2017
*It will be made available online at 10AM.
2. Places to pick up a physical copy
Yokosuka Tourist Information Center Sukanabi i, Tourist Information Center Dobuita Station, Yokosuka Tourism Planning Section and more.
The Tourist Information Center Dobuita Station
3. Map webpage
Yokoksuka Tourist Information site "Koko wa Yokosuka"
Click here (site be updated on December 3rd)
4. Shenmue Sypnosis
It's a game made by Sega that was released for the Dreamcast in 1999.
It then goes onto explain a bit more about Shenmue and why it had such an impact on the gaming landscape etc, but I'm going to guess you lot already know that stuff, so I shan't be wasting my time bothering to translate that. You can use Google Translate or something from the link below to get the main gist I'm sure.
So there you have it. In short, from December 3rd a physical Map will be available at a variety of tourist information centers around Yokosuka. If you can't make it to Japan in person then I suggest checking out the online version via the official Yokosuka tourism
web site
. (We'll check back to update this page with the exact URL of the map once available)
You can find the original link in Japanese to the Famitsu story
here
.
Anyway, it's certainly exciting times for tourism in Yokosuka Japan. Will this bring a new wave of investment to the area from high rollers looking for the next thing to put their money into? Only time will tell. For now, I'll leave you with a couple pics of when I visited the area a few years back.
Dobuita Highstreet
A road that kind of looked a bit like some place in Shenmue at the time...but not so much now.
What a twat.
A no doubt childless elder couple with a pet pig that pissed on the floor near the harbour.
Source:
Famitsu
(in Japanese)