A couple months back, during Japan's
Silver Week
national holiday, I took a short trip to Tokyo to meet up with a few old friends. Seeing as I was already in the area, I took a day to check out how the gaming scene was doing in the world famous Akihabara (it would have been rude not to really). I focused specifically on the Dreamcast for this article, but it's a similar story for most other consoles. Read on to see my findings...
Mulan Akiba
First stop, Mulan Akiba. When I visited they had just a small selection of about twenty Dreamcast games tucked on the bottom of a shelf at floor level. There were only twenty or so titles and nothing special to mention, mostly visual novel chaff and a few common RPGs. They did have Guilty Gear X, but...ouch! Look at that price. You'd be better off going to eBay.
Had to get on my knees to look through this crap.
Guilty Gear X for 2,058JPY (£13.50, $18) plus tax...er no thanks.
Retro Game Camp
The next stop on my tour was far more interesting - just look at that display case! There was also a rather large shelf of games with an impressive range of titles. The prices weren't terrible but not much different to eBay and certainly more expensive than Yahoo Auctions Japan. One good example of the type of item you still can find a good deal on in Tokyo, was the DC dancemat for a paltry 1480JPY (£10, $13). Due to the cost of shipping, weighty items like this; arcades sticks, twin sticks and other bulky items, are often sold on eBay for three or four times their value, meaning you're really paying for the shipping more than anything else. If you've got room in your suitcase, they're one of few types of item, you can still find at what seems like a bargain price here in Akihabara. I already own one, so suffice to say, I left empty handed.
A selection of rare games was to be found in this case at standard prices. No bargains here.
An entire shelf dedicated to the DC, not bad.
A Dreamcast in a battered box for 6300JPY (£42.50, $56).
Can't go wrong with a DC dancemat for a tenner.
Book Off
Next up, the sister shop of the infamous Hard Off chain. This particular one had a far larger space dedicated to modern games, but lurking in the retro section was a modest selection of Dreamcast titles. The rarer stuff was all priced at standard eBay prices but there were definitely a few good deals to be found on more common games such as the pictured Samba De Amigo at just 500JPY ($4.50, £3.50). Having lived in Japan for eight years, I picked up most of the more common titles many moons ago, so it wasn't much good to me. Still, some bargains on common games to be found here for sure.
The modest selection at Book Off.
The rarer of the two Advanced Daisenryaku games on DC, 6,450JPY (£43.50, $57).
£3.50 for Samba De Amigo. Bargain!
Rashinban
It seems like this shop has only recently begun stocking retro games. They had one small isle with some Saturn, PS1 and SNES games, but no Dreamcast as of yet. Oh well, the next stop is my favourite in the city...surely it won't disappoint.
Trader
Now we come to what has always been my favourite game store in the area. As you enter you're treated to a room filled with modern systems and games, but take a walk up a small flight of narrow stairs to the 2nd floor and you're in for a real treat.
While not the biggest room, this place is absolutely packed to the brim with retro games and systems from pretty much every console you can imagine. They also have one of the biggest selections of Dreamcast games in the area - feast your eyes on this lot! To be quite honest, the prices aren't much better than eBay, but at least you can enjoy the privilege of sifting through the games with your bare hands, holding each one and inspecting the condition personally. Of course, the staff here really know their stuff, so you wont find many bargains but even a stingy bastard like myself never leaves empty handed. This time no Dreamcast games I'm afraid, but I did leave with ToeJam and Earl and Mutant League Football for the Megadrive, along with the rather rare Gulkave for the SG-1000.
This is what I'm talking about!
Rather fitting that this was the only photo from my trip that came out upside down. This piece of trash really doesn't deserve my time to rotate it, so I'm leaving it as is.
A couple uncommon console variants both priced at 18,000JPY (£118, $160). Neither is %100 complete.
Special Edition version for 8200JPY (£55, $74).
Shikigami no Shiro 2 including pendant, 15,000JPY (£101, $135)
They even had a few American games at reasonable (considering they're import here) prices.
A few more boxed consoles in good condition.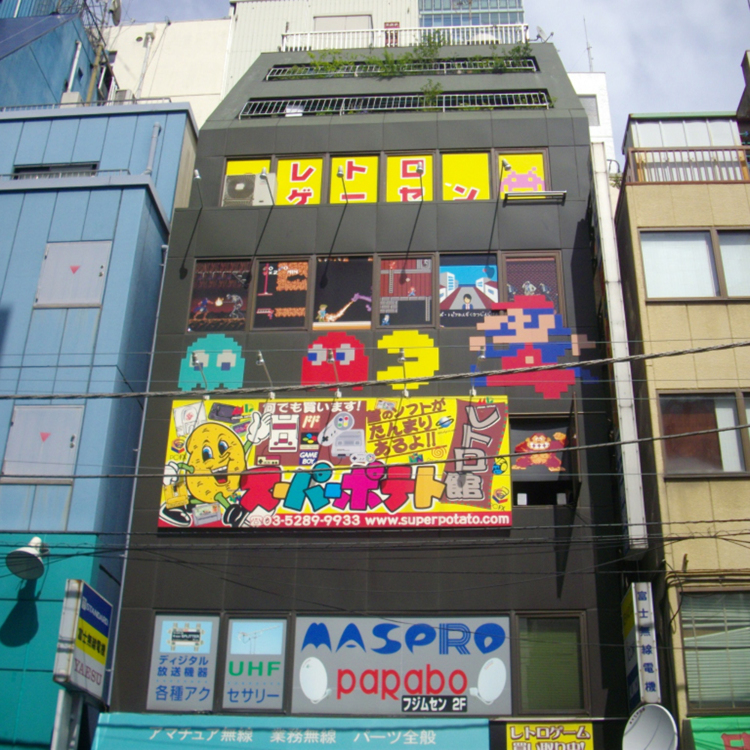 Super Potato
Lastly we come to the most overrated game shop in the whole of Japan, if not the world; if you're buying much here, I'm sorry to inform you, you're doing it wrong. This is by far the most expensive game shop I've ever had the displeasure of visiting in Japan.
If nothing else, I will admit it's a spectacle; four or five floors dedicated to retro gaming, holding some of the rarest games you're ever likely to see out in the wild. Unfortunately, the prices are also out of this world. This shop's idea of a bargain is matching eBay prices...and you'll have to work hard to find them. They no longer even have a set price on many of the games in stock, instead just a 'price range' for example "2000-3500JPY". You have to take the case to the register where depending on condition they'll tell you what you'll need to pay...and none of these prices even include tax! Seems like a borderline scam if you ask me. On a more positive note, they also stock some reasonably priced gaming knickknacks such as Dreamcast mugs as seen in the picture below.
The top floor houses a small arcade room, which also happens to be where I spent most of my time on this visit, playing Dodonpachi. Come for the spectacle and Arcade but make sure you do those currency conversions thoroughly because this place is a tourist trap, nothing more. Needless to say, I left empty handed.
Boom!
Ouch! Mars Matrix 6,980-8,980JPY (£46-£60, $62-$80) Ikaruga 8,480 - 9,800JPY (£56-64, $75-87) plus tax...YES, PLUS TAX!
Umph! 1980JPY (£13/ $18) for CVS. You can find it cheaper on eBay.
Fuck right off! 2800JPY (£19, $26) for regular Jet Set Radio, no chance.
Surugaya
Lastly, we come to my favourite new shop on this trip...well, to be honest, I'm not sure if it's new but I'd not seen it before so
'twas new to me'
. Not only did this medium sized shop sell games for a huge variety of systems, it even had a selection of arcade boards. Again, the prices are roughly around eBay level, so I left with nothing, but if the country you call home is anywhere but Japan then you might find something of interest at a price that seems reasonable.
Cannon Spike 5800JPY(£38, $52)
Napple Tale (£56, $75)
And that brings us to the end of the trip. I came away with a couple Megadrive games and one for the SG-1000. Not much of a haul, but in fairness, I do already have a fairly large collection, so most of the games I'm in the market to acquire are fairly rare and demand a high price. Specifically for the Dreamcast, the ones I'm looking out for are mostly shmups and believe me, Akihabara is not the place to go looking for bargains on shooters. The shops are highly specialised and all know their shit when it comes to games. The odd item or two may slip through the cracks at a bargain price, but you can be sure such items will be snapped up quickly.
Honestly, if you're coming to Japan with the intention of buying games, I suggest you try to find some shops out in the suburbs of one of Japan's smaller cities. Tokyo, especially Akihabara, is by and large a rip off for rich collectors wanting pristine items, or clueless foreign tourists. Don't say I didn't warn you. Still, it's nice to just see all this stuff out in the wild and soak up the Akihabara atmosphere, so certainly not a wasted day by any means.
If you'd like to read more about collecting games in Japan, check out this rather comprehensive article I wrote on the subject for a different blog a while back. Despite being a few years old, most of the information is still relevant
Top 5 Methods of Buying Games in Japan
.